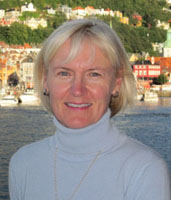 "Watercolour is both the source of my inspiration and the vehicle for its expression"
My work is a study in transparency and reflected light, colour and the movement of fluid shapes. Inspiration has come from subjects such as glass, ice, water and reflective surfaces. I paint in watercolour, a medium which shares the qualities of my subjects, lending itself to the expression of the light and shadow, soft shapes, crisp edges and transparent colour which define my work.
Although my paintings are realism based, I have never been interested in traditional representation, often approaching my subject from a close-up perspective. As a result, the subject is only partially defined and stretches beyond the limits of the composition. In both my work with glass objects and my paintings of ice I have explored the effects of light and transparency, the fluid shapes of my subjects and the abstract forms found within them. This approach can be described as a study of the concept of abstraction within representation. The subject may be recognized but the focus is on form, movement and colour.
Education
1987-1989
Ecole des Arts Decoratifs, Geneva, Switzerland
Studied Drawing and Painting
1982-1984
Concordia University, Montreal, Quebec, Canada
Graduate Diploma in Translation (French-English)
1976-1980
Queen's University, Kingston, Ontario, Canada
BA (honours) French and History
Selected Exhibitions and
Gallery Representation
November 2010
Academy Gallery, Bath, Ontario
2007-2008
Gallery ArtPlus, Belleville, Ontario
1993-2007 Annual Participation
Toronto Outdoor Art Exhibition
www.torontooutdoorart.org
Solo Exhibitions
1999-2011 (excl. 2002)
Windmills Café, Kingston, Ontario
May 30-June20, 2003


Gallery at the Playhouse Thousand Islands Playhouse Gananoque, Ontario
1994-2001 and 2002-2011
Kingston Studio Tour
Members Juried Exhibition
February 2002
Canadian Federation of Artists Gallery, Vancouver, B.C.
Awards
2011

Toronto Outdoor Art Exhibition
Honourable Mention In Watercolour

2004
Toronto Outdoor Art Exhibition
Best of Medium
2002
Toronto Outdoor Art Exhibition
Honourable Mention for Watercolour
1997
Toronto Outdoor Art Exhibition
Terry Martel Watercolour Purchase Award
1976
Ridley College, St. Catharines, Ontario
Nan Cassels Award for Contribution to the Arts


Memberships
2003-2011
Organization of Kingston Women Artists (OKWA)
- Organized Member's Exhibition January 2004
1999-2007
Kingston Artist's Association
2001-2002
Federation of Canadian Artists, Vancouver, British Columbia
Teaching Experience
and Presentations


January 2011
Presentation to the members of OKWA on "The Evolution of my Work"
June 2010
QECVI Kingston - Watercolour workshop
for High School Students
2000-2011


Watercolour Classes and Workshops in both Toronto and Kingston
September 2000
Toronto Watercolour Society - "Painting Glass in Watercolour - From Still Life to Abstraction"
1994-2001
Kingston School of Art - Watercolour workshops
1995-1996
Queen's University Elderhostel Program - Workshops
Articles and Reviews
June 4, 2003

The Gananoque Reporter
"Reflections: Sally Milne's Moving Waters, Fruit Reflected"
by Heather McAlpine READ THE REVIEW

January 2001
Profile Kingston Magazine
"Sally Milne, Colour and Composition"
by Ann-Maureen Owen
April 1, 2000
Kingston Whig Standard
" Milne's Work Glows with Light" by Melanie Dugan
March 13, 1999


Kingston Whig Standard
"Artists Explore New Territory" by Richard Moll